We at Hoffman Office Supply are now selling Habersham Wax Pottery.  These are scented plates with a decorative design that smell just like scented candles, but do not have an open flame, smoke, or melted wax.  They make for a perfect solution to those who love scented candles, but cannot have open flames in the office.  Their decorative design make them an accent piece for a desk or credenza, and with a multitude available they make your office relaxing, invigorating, or inviting.
We offer three different models. A sphere with a 4.4 inch diameter that is perfect for a bathroom or smaller office, the Wax Pottery model that goes with any desk or credenza, home or office!, and a traditional scented candle that will burn for 80 hours!.  With over 50 fragrances available, all three of these models make the perfect gift.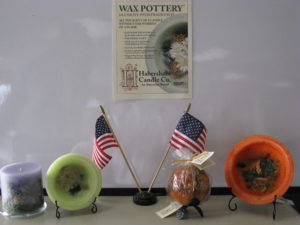 Our largest Wax Pottery, 7 inches in diameter, sells for only $19.75 and the 5 and a half inch sells for $14.75.  We also have stands pictured here for purchase.
All of these products are made in America.